The Smart-Ass Guide to Arti
Titian (c. 1490-1576)
Real Name: Tiziano Vecellio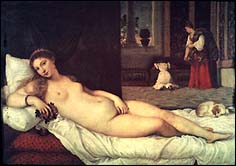 Venus of Urbino (1538)
Country: Italy
Style: High Renaissance, mostly oil paintings
Teachers: Bellini & Giorgione
Major Works:

Man w/ the Glove (1519)
Pesaro Madonna (1519-26)
Bacchus and Ariadne (1522-23)
Venus of Urbino (1538)
Danae (1554)
Abduction of Europa (1559)
Christ Crowned w/ Thorns (1573-75)
Interesting Stuff: The most prolific of the Venetians, during Titian's time painting moved from the use of wood panels to canvas as the painting surface. Because of this, pretentious art folks say that he established oil on canvas as the predominant medium of painting for the future. Whatever.
He was a friend of Emperor Charles V - so much so that he made Titian a knight of the Holy Roman Empire.
Venus of Urbino (seen above) is of course, the painting featured in the classic Saturday Night Live sketch "Art Classics with E. Buzz Miller", during which Dan Aykroyd pronounces the artist's name as "Titty-an" and says "...and I don't think anybody can deny this is a very nice painting of a broad on a couch".